Wouldn't it be awesome if you get different types of chilies from one plant?
Well, thanks to grafting we can have a taste of this wonder.
But there's a catch-
If you want wonders, you'll need the best tools. Even Harry Potter needed a perfect wand for him.
So, it's important to get the best grafting knife before jumping into your garden. Because a bad one can give you painful hands and in worst cases, awful blisters.
However, with so many options available, it's super tough to choose a good one.
So, to help you out, we've brought in this list of top grafting knives. And as a bonus, we've added a buying guide to ease your struggle.
Now, let's cut right through the details-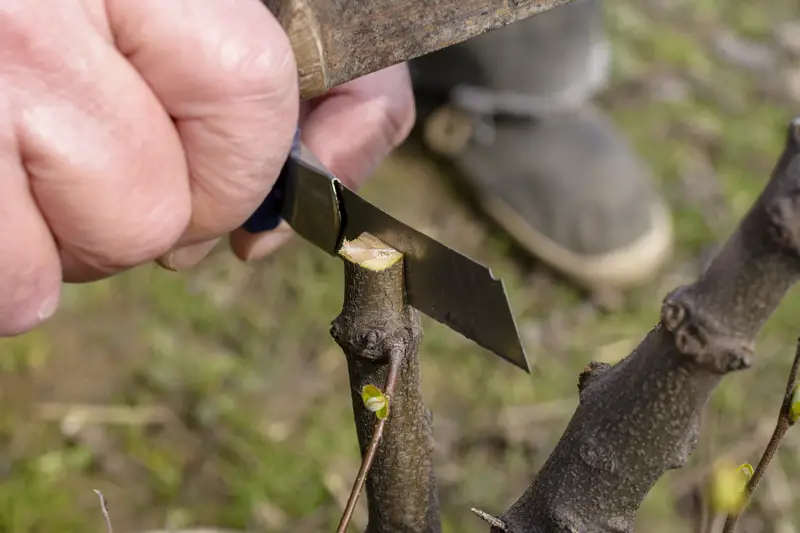 As an Amazon Associate, I earn from qualifying purchases.
Sturdiness, Versatility, Design, Usability you name it and our grafting knife here would be a champion in that category. With its stainless-steel double blades, the PGCOKO Garden Grafting Pruning Knife holds the number 1 position in our list.
With a rosewood finish, this grafting knife gave some extra focus to fit it perfectly in your hands. So, it won't matter if you're a lefty or righty, this champ here can deliver you the best experience on an eye soothing budget.
And to take things to the next level, the knife comes with double bevel blades. So, you can cut away or cut towards you with no fuzz.
This isn't only a knife. It's actually a package. Because Naye knows what a gardener might need and it delivers some extra value with a good knife. So, how good is the NAYE Grafting Gardening Knife?
Well, for starters, we have to talk about its handle finishing. The wooden handle gives different color in every different piece. But that's not all. The double bladed knife folds perfectly into the knife handle when needed.
And to take things to the next level, the knife gives grafting tape and metal plant tags with it. However, the handle design might feel a bit awkward to the left handers and because of this reason, it's in number 2.
Wouldn't it be amazing if you had a swiss knife for grafting? Well, the Victorinox Budding & Grafting Knife delivers just that with some amazing features. And all that made it a top contender in our list of grafting knives.
Unlike our 2 previous knives, this one has a plastic handle. But that didn't reduce its style in any angle. As we said earlier, it's got a beautiful swiss knife design.
Now, about the quality. This knife comes with a single bevel blade. And it's got only one blade too. But that's pretty sharp. So, you won't have to worry about usability.
At number 4 we have an all purpose gardening knife that has a special focus on grafting works. So, what's so special about the Comkit grafting knife?
Well, for starters, this knife has almost 3 blades. It's almost 3 because the tip is sharp and it can be used for bark lifting. But overall it's a decent knife with a decent build quality. The stainless steel +PVC handle makes it sturdy and lightweight both at the same time.
However, it's not that good looking and it needs cautious storing after use. Now, let's look at the pros and cons to have a deeper understanding-
We've reached the halfway mark with the Yosoo Garden Grafting Pruning Knife. Now, this knife might seem like a mere copy of our previous product. But there's actually more to it.
For example, this knife uses advanced cutting industrial steel instead of normal steel. This one's actually a better version when it comes to cutting. But the most important difference is in weight. This one weighs just above half ounce. Which means your hands will go through less stress.
The reason for it ranking below our previous entry is because of its usability. The handle pins are not level with the handle surface. These minor details have brought our knife to this position.
There's a huge allegation against the Felco Grafting and Garden Pruning Knife. Many say that this is just a Victorinox knife with a different logo. Well, that's not true.
The thing is both look the same almost. But these are manufactured by different companies. And some of the features are different too. So, what do we have different in this knife?
Well, the most basic difference is in the handle material. The Felco knife uses Nylon with an alloy lining in its handle. And this might be one of the reasons behind the reduced weight. Moreover, this knife comes with a strong back spring.
However, even with all those good improvements, this knife has a low price-quality ratio. And because of this reason, it's at number 6.
If you really want to buy only one grafting knife then this might be a good option for you. Because this one's designed for both right and left hand usage.
So, what does the Linsen-Outdoors Garden knife offer? Well, for starters, it gives us 2 stainless steel blades. And with a rosewood finish, this one scored a perfect ten on the aesthetics scorecard.
That's not all- to take things to the next level, it comes with an awesome blade to handle length ratio. However, because of some cons this one couldn't make it to the top few. And we'll discuss those over the cons part.
The name might make you all dubious about the product. But it's not a bad product. To be more specific, their claim is somewhat right. So, what's so unique about the Zen Garden Grafting Knife?
Well, it's unique in its core. It uses a special kind of steel in its blades. To be more specific, it uses the 5CR13MoV Stainless Steel. And it's special because it's used in making tactical weapons. So, your blade won't go dull after a few cuts. Moreover, your blade will be resistant to dents and damages to some degree.
Other than this, our single bladed grafting knife is pretty much similar to other standard knives. However, because of some usage disadvantages, our knife is in this position.
At number 9 we have the Linsen-outdoors Folding Pocket Knife for Grafting. Now, this knife is like the most average knife of the industry. It's got all the standard features and all, but it lacks something unique. Till now all our entries have something unique in them. But this one's a bit void.
So, what does this actually offer? It comes with 2 double beveled blades. And with the ergonomic design it delivers a standard user experience. Let's look at the pros and cons to have a better understanding-
It's been long since we've seen a product that sends gifts to the customers. And so after going through several products we have the HAINABC Grafting Garden Knife.
Now, what does this knife offer us? First, let's discuss the double blades. These super sharp single beveled blades are really awesome for grafting works. Moreover, the special design allows one to cut away from oneself. As a result, it's pretty safe too.
Up next we have the wooden finish with a good handle for a firm grip. And let's not forget the beauty and environmental benefits of a wooden handle. However, all these are pretty average compared to the rest of the products here. And with the cons, it found its place in here. However, it's still a go because it delivers a full grafting package at a low price.
Buying Guide for The Best Grafting Knife
Thanks for surviving the stampede of information. We know it was a lot. So, it's okay to be confused.
Here's the thing-
To help you choose the best one for you, we've brought in this buying guide. Here, we'll discuss the features with a focus on usability.
The thing is, when it comes to grafting knives, there aren't many in depth things that you should look into. So, let's start with the important stuffs one by one-
Blade Number
Grafting knives come in two types. Single bladed and multi bladed. Now, which one is better depends on your use.
In multi bladed ones you'll get a straight blade and a hooked blade. Both are important in grafting. However, an extra blade means extra weight. Moreover, sometimes the blade doesn't fully fold into the handle.
And if you're into grafting a whole garden, then things might get bad for your hand. But the perk is you get versatility.
Handle Diameter
This might seem a little too much at first. But the diameter actually matters. However, the relation between handle diameter and comfort depends on your hand size. However, the thick diameter feels better.
Handle Material
You'll get all sorts of options here.  However, nylon handles are great for gripping. But wooden ones are great for aesthetics and environment. Ultimately, it's your choice here.
Blade Lower Edge Starting Point
Take a close look at where the sharp side of the blade starts from. The closer it is to the handle, the better it is.
Final Cut
We've gone through a lot. But now you can order up the best grafting knife for you. And you can even suggest your fellow gardeners a good one. So, what are you waiting for? Get on with it already!
As an Amazon Associate I earn from qualifying purchases.