Although Fig trees are pretty tough and can fend for themselves, you'll need to give them a growth boost from time to time. 
And what better way to do so, other than using the Best Fertilizer for Fig Trees?
Although this may seem daunting, it need not be so. That's because we've handpicked the top 5 fertilizers you can get in the market for fig trees. We've listed the good and bad of each product, so that you can easily pick one yourself.
As a finishing touch, we've added a buying guide. Thus, let's jump right in.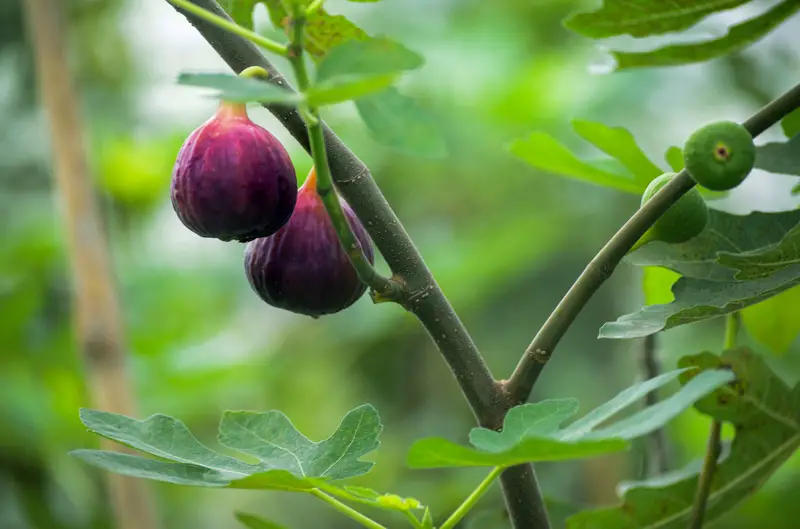 Comparison Table
Product Overview
To start off, let's talk about this water soluble all purpose plant food from Miracle Gro. This all-rounder may seem ordinary, but works it's magic 
Due to it's easy-to-absorb formula, the roots can take it up as soon as you apply it on your fig tree. It promotes healthy growth and you'll notice a bigger and more beautiful tree within a few weeks!
So what are the unique features of this fertilizer? Firstly,it's extremely versatile. Hence, you're not investing for just one tree, but also your whole garden. From your flowers, vegetables to your delicate houseplants, this Miracle-Gro fertilizer will save the day.
Don't be fooled by the small package size. This fertilizer pack lasts for months, since you'll only need to use it on your fig tree once every 1 or 2 weeks. 
Plus it's super easy to use. All you need to do is mix around 1 tablespoon of miracle grow with a gallon of water for a full grown fig tree. But if you're intending to feed your indoor plants, half teaspoon shall suffice.
Next, you just have to water your plants as usual and that's all that there is to it. Also, a gallon of water when used on your outdoor plants will cover 10 square feet of soil!
Wondering about the NPK ratio of this product? The Miracle Gro comes with a 24-8-16 formulation, which suits all types of plants. With 24% nitrogen, 8% phosphorus and 16% potassium, your fig tree will have all of it's concerns met. 
Product Overview
If you're a fan of spike fertilizers, we've got you covered too. Another great alternative to the Miracle Gro all purpose fertilizer, is this bad boy. 
This fruit and citrus plant food spikes from Miracle Gro are extremely easy and fun to use. 
Besides, another thing that makes this fertilizer so good, is the crazy versatility. 
Although it's targeted towards citrus plants, the formulation works really well with Fig trees. 
What more so, you can easily pair this up with palm trees too! All you have to do is insert the spike at the bottom of the plant near the roots. Next, water the plant as usual and your plants can absorb all that it needs. 
Since they're slow release spikes, this fertilizer goes a long way. The soil is able to retain this fertilizer better, and you'll only need to fertilize your fig tree once every season. Only do this during spring when the plant needs nutrition after winter, and fall.
Another feature we loved, was these spikes have a natural composition. That means that you don't have to worry about giving chemicals to your delicate fig tree. 
This formulation not only gives nutrients to the roots, but also promotes lush green leaves. All in all, it's a great pick. Just remember to store the spikes you don't use in a sealed ziplock bag. This will help retain their goodness for longer. 
Lastly, these come in a 48 oz packet. In other words, you'll have enough product to fertilize your whole garden. 
Product Overview
So by now, there's no doubt that fig trees require proper nutrition for their healthy and happy growth. However, every fertilizer you invest in, may not have the right blend.
If such issues are your concern, then this Fig Tree Fertilizer from Aquatic Arts is the answer. 
That's because it comes with a special blend of nutrients that help your Fig Trees grow like weed! On top of that, regular use of the Aquatic Arts fertilizer will keep your leaves looking healthy, and prevents brown spots that come with an ugly appearance. 
Another benefit that comes with this fertilizer is that a little goes a long way. With just one bottle, you can easily feed your Fig tree for about 6 months to a year. Note that this 8 oz can will last that long, if you're feeding one fig tree.
Thus if you have a Fig Garden, you may run out of the bottle faster. 
Coming to the NPK ratio, the Aquatic Arts fertilizer is formulated with a 3:2:1 ratio. This ratio of nitrogen, phosphorus and potassium is perfect for healthy Fig plants.
Also, if your plants are looking a little rough lately, you can add in some fertilizer every time you water. This will make sure that the plants look healthy all the time. The all natural formula will ensure that your plant doesn't face any fertilizer burns or damage.
Product Overview
Up next, we have a Fiddle Leaf fig tree plant food. This liquid fertilizer may seem simple, but it's not to be underestimated. And why is that?
This organic fertilizer is made up of all natural ingredients, so you don't have to fret about damaging your plants with excessive chemicals.
Now, some organic products may be healthy for your plants, but aren't as effective as their chemical counterparts. But this fiddle leaf fig tree plant food is enriched with all the essential goodness, required for your plants. 
Plus, it's non toxic and extremely safe for your fig plants. Although a lot of fertilizers are marked safe, not all are tested in a laboratory. However, the Fiddle Leaf Fig tree fertilizer is lab tested too!
Although some consider a liquid fertilizer to be traditional and too much work, this fertilizer works differently. It's mess free, and requires no mixing at all! You can use it directly from the bottle, or combine it when watering your plants.
Since it's liquid, it also absorbs easily, compared to it's solid counterparts. Moreover, you don't have to fret about overfertilization or even leaf burns.
Another feature we appreciated was that it comes with a static 3-2-1 NPK ratio, which is best for fig trees, since a higher nitrogen level helps in fig growth.
Lastly, it comes with a free ebook and webinar on how to care for your fiddle leaf fig tree, ensuring that you grow the healthiest fig tree possible. 
Product Overview
If you're a lazy gardener, who's not quite developed a green thumb yet, you may always be looking for quick and efficient ways to get work done. If that sounds like you, you may enjoy using this slow release fertilizer for Fig trees by Perfect Plants.
Since this product comes in a slow release pellet form, all you have to do is pour some near the base of your fig tree and insert them into the soil.
Next, simply water your plants like usual, and you fig tree will slowly get all the growth boost that it needs. Another advantage of a slow release system is that the fig tree isn't getting more fertilizer than what it needs.
Thus it's easy to use and it also saves your time. You only have to reapply these pellets every one in 6 months. 
That's all you need to notice a growth of healthy and green leaves. People even report their plant leaves turning glossier!
You may have heard that the perfect NPK ratio is 3:2:1. But this fertilizer from perfect plants comes with a 16:5:11 NPK Ratio. This low phosphorus level is apt for delicate fig plants which are yet to reach maturity
Buying Guide
With that, we've come to an end on our product overview section. We listed the advantages and disadvantages of each product, so that you can come up with a final decision quite easily. 
But, it's alright if you're still feeling a little lost. In case you needed some extra help, we've prepared a compact buying guide, with the help of which, you can land on a  final decision. 
Natural or Chemical?
One question which bothers a lot of new gardeners is whether they should opt for an organic or chemical fertilizer. Although the new trend has shifted towards organic and natural products, keep in mind that they may not work as fast as chemical ones.
Moreover, don't label all chemical fertilizers as bad! Some may contain small amounts, which help your plant grow faster and promote faster plant growth. 
Seasonal fertilizer or Daily fertilizer?
Another dilemma that may bother a lot of people is whether they should opt for frequent fertilizing products or choose ones which last for a few months. 
This depends on how committed you are to the hobby. If you're an avid gardener who regularly spends a portion of their day gardening, choose the latter. 
But if you're someone with a busy schedule, it may be better to stick with a routine that works for you. Other than this factor, also consider which is better for your plant.
If your fig tree is already quite healthy, a slow release seasonal fertilizer may work best. But if it needs an immediate pick me up, go for daily or weekly fertilizing. 
FAQS
Question: Are coffee grounds good for fig trees?
Answer: Coffee grounds are a great source of natural nutrition for your plants and can promote their healthy growth. However, they shouldn't be used as a replacement for fertilizer. Only using coffee ground will not provide your fig tree with all the important nutrients that they need.
Question: How much water do fig trees need?
Answer: Fully grown fig trees don't need to be watered unless there is a drought period for quite some time. With baby plants, make sure they get 2-4 cms of water every week.
Question: Is Epsom salt good for fig trees?
Answer: Contrary to its name, epsom salts are primarily made of magnesium and sulfate. Both of these are super beneficial for fig trees. To get a greener plant which produces fruits faster, simply sprinkle some epsom salt near the roots of the plant. 
Conclusion
That was all from our side folks!
We hope you enjoyed this post and learned something new. If you have any queries on Best Fertilizer for Fig Trees, do let us know in the comments below and we'll get back to you.
Until then, stay happy and keep gardening!
As an Amazon Associate I earn from qualifying purchases.