Introduction
Blueberries are a cult favorite fruit and don't even get us started on blueberry pies. If you grow your own blueberries, it can be especially rewarding! However, this comes with some pitfalls.
If you tried growing your own blueberries and faced some issues, knowing the best blueberry fertilizer might be a big help.
That's where we step in. To ensure that your blueberries are as delicious as ever, we've come up with a list of the top 5 blueberry fertilizers. On top of that, we've included a buying guide to help you pick the right fertilizer for you!
So without further ado, let's check out what we have in store for you.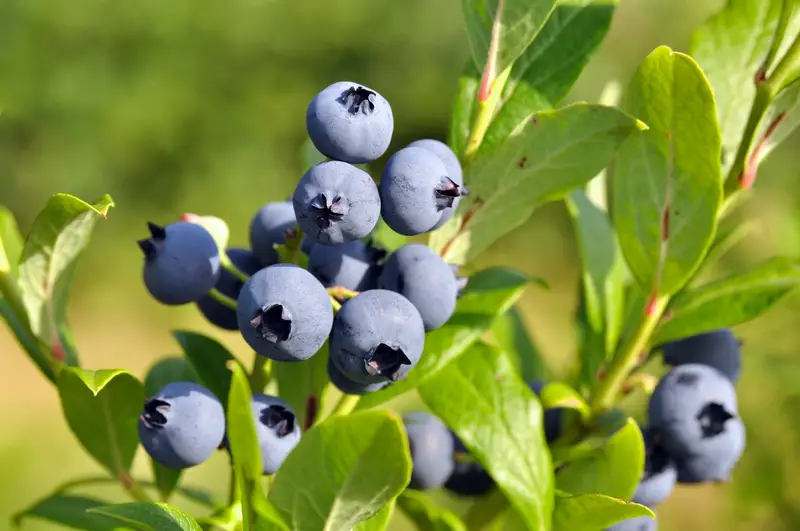 Comparison Table
Product Overview
Did you know that bonemeal is a great organic way to incorporate a bundle of nutrients into your soil?
Well, now you do. That's why we've brought you the Burpee organic fertilizer which has bone meal as one of its prime ingredients. That's why it comes with nitrogen, phosphorus, and calcium, all derived from natural sources. 
Since it's also OMRI listed, there's no risk of a fertilizer burn when you use it since you're assured that there aren't any harmful chemicals in it. 
Another perk of using bone meal is that it breaks down quite slowly. This gradually releases nitrogen and other nutrients into the soil, nourishing them throughout the season. 
Using this fertilizer when your blueberry plants are in their initial stages will boost their health, and help them grow stronger. Another feature we liked was that this fertilizer is extremely versatile. 
So, you can use it while planting bulbs, tubers, vegetables, and even flower plants, apart from blueberries. 
Also, the fertilizer comes in a fine granulated consistency, which makes the fertilizer pretty easy to use. All you need to do is slip on some garden gloves and scoop the fertilizer into the soil. 
Lastly, this fertilizer comes with an NPK ratio of 6-8-0. Although there's no potassium, the combination of nitrogen and phosphorus promotes lush green leaves and also strong sturdy roots. 
Product Overview
You may have heard about acid-loving plants, but why need to acidify soil? Well, it's pretty simple. For certain plants, when the soil is more acidic, it mobilizes the nutrients in the soil. As a result, it allows the plants to absorb these nutrients better, and thus show better results. 
That's where Jobe's organic soil acidifier comes in. This organic fertilizer decreases the soil's alkalinity and provides a good dose of sulfur to your blueberry plants. 
Moreover, it promotes lush foliage and enhances the color of your plant leaves. The granular formula is not only readily absorbed, but it's also easy to use. 
And, this is partly because of the packaging shape, which comes with a resealable top and allows you to easily pour out the fertilizer. 
You'll also be glad to know that this fertilizer is OMRI listed. That means it's certified organic, and there are no harmful synthetic chemicals incorporated in the mix. 
For your indoor plants, you'll only need 1-2 tablespoons of fertilizer per plant. Just simply sprinkle it on the soil near the plant roots, and water as usual. Since it comes in a 6lbs pack, this fertilizer will last you quite a while. 
Lastly, this fertilizer comes with an NPK ratio of 2-14-0. Although there's no potassium, a high level of phosphorus ensures that your blueberry plants have a strong root growth, and also increased fruit production!
Product Overview
If you're in search of organic fertilizer that's also good for the environment, then look no further than the Berry Plant Food from EcoScraps. 
That's because this fertilizer is purely natural ingredients to make the healthiest fertilizer for your gardens. Now you may wonder how are you contributing to the environment?
Well, here's the thing-
A study shows that Americans on average, waste about 30 million tons of food every year! What EcoScraps does is recycle this food waste to convert it into fertilizer. So, you'll have no problems with wastage. 
Worried that it's difficult to use? Then don't! This fertilizer is clean, and also extremely easy to use. That's because The all-in-one particles spread evenly into the soil. 
Moreover, each particle of the fertilizer is analyzed, giving you a guarantee of uniform feeding. Thus, you can now start fertilizing your plants and also save landfills at the same time!
Another good news! You can't only use this fertilizer for blueberries, but also other berry plants such as strawberries and raspberries. The NPK ratio of this fertilizer is 4-5-4. 
Here, the extra phosphorus ensures that bigger blooms and more fruit production so that you can eat blueberries to your heart's content. 
Product Overview
Since blueberries can be considered as acid-loving plants that thrive well in low pH soils, we brought you another acid mix fertilizer from Down to Earth.
To start off, this fertilizer has great nourishing capabilities. You can use it not only on your blueberries, but also on rhododendrons, azaleas, hydrangeas, evergreen plants, and other berries of the same family.
Another great feature is that the box is also recyclable and contains detailed instructions on how to use the fertilizer to clear out any confusions you may have. 
If you're wondering what's in it, this natural fertilizer is a blend of cottonseed meal, fishbone meal, rock phosphate, langbeinite, and kelp meal. In addition to that, it also contains 2.5% humic acid.
So you don't have to worry about adding any synthetic chemicals to your precious plants.
Other than that, the best time to use this fertilizer is during early spring when the plants need an immediate growth boost after a harsh winter. 
You could even also use it during fall, to help the plants grow stronger roots and help increase their resistance to the cold. 
One packet of the fertilizer comes with 5 pounds of fertilizer, with a 4-3-6 NPK formula. The high level of potassium in this fertilizer enhances its resistance to all kinds of external factors and also promotes cell growth. 
Product Overview
Last but not the least, we have the Espoma UL30 organic soil acidifier fertilizer, to cater to your blueberries. 
If you live in an area where the sprinkler emits hard water, it may increase the pH of your soil. This makes the soil turn alkaline, which may seriously harm the health of your blueberry plants.
By using the Espoma fertilizer, you can significantly bring down the ph level of your soil. That's because one of the main ingredients of this fertilizer is sulfur.
When sulfur is mixed with soil, it gets oxidized by bacteria and gets converted into sulphuric acid. And, sulphuric acid has high acidifying properties, and permanently increases the acidity of the soil. So we suggest you test the acidity of the soil, before adding this fertilizer to the soil.
All in all, if you apply the Espoma fertilizer, you may have to make the soil neutral before growing other plants in that soil. 
It comes with an NPK ratio of 4-3-6, which indicates a balance of all the essential components. The marginally higher potassium boosts the plant strength and ensures tasty fruit. 
Since this comes in a natural pellet form, you can be assured of an easy application. Simply pour according to the instructed quantity, and then water the plant regularly. 
Buying Guide
That's a wrap on the extensive product section. We hope you read the pros and cons of each and got an idea of which fertilizer you want to use on your blueberry plants. 
If not, we've got you covered too. Since it can get confusing while comparing so many fertilizers at once, we've brought you a compact buying guide to help.
So, read up on the essential factors to be considered while choosing a fertilizer, before you make your decision. 
Fertilizer Size
Now, this is an obvious one where a lot of people falter. It's prudent to give a thought to how much fertilizer you need, before investing in one. 
In case you have a big garden of blueberry plants, we'd say go for a big fertilizer pack above 5 lbs. However, if you're planning to only fertilize a few potted plants, then going for a big pack may be a waste.
Another determining factor is how versatile the fertilizer is. If it can be used on a wide variety of plants, you may want to buy a big packet for all of your plant concerns. But you don't need a lot for a specialized fertilizer. 
The Right NPK Ratio
Another thing to check before you buy a fertilizer is the NPK ratio. But the numbers can get quite confusing for someone who's a beginner in gardening. Here's a quick overview. 
Nitrogen
This encourages lush leaf growth in your plants. However, if you use high-level nitrogen fertilizer on a mature plant, you may get excessive leaf growth and low fruit production. Thus high-level nitrogen is best used in the early stages of plant growth.
Phosphorus
Phosphorus enhances the fruiting and flowering capabilities of plants. Moreover, it promotes stronger roots and better quality seeds.
Potassium
This promotes a strong plant and improves resistance from external factors such as stress, cold, etc. It also improves the quality and taste of fruits.
FAQS
Question: Is Epsom salt good for blueberries?
Answer: If you discover that your blueberry plants are lacking in magnesium, adding a sprinkle of Epsom salts to the soil may solve this issue. But if the problem lies in the high ph levels of the soil, Epsom salts will be ineffective. All in all, it can be used as a supplement, but not as a replacement for fertilizer.
Question: What is the best mulch for blueberries?
Answer: If you plan to use mulch on your blueberry plants to increase the soil fertility and moisture, pine needles or bark mulch maybe some great natural options. 
Question: Are eggshells good for blueberries?
Answer: Since the primary content of eggshells is calcium carbonate, using ground eggshells in your soil can act as a natural boost for your blueberry plants. It also increases the acidity of your soil, which can be a great benefit for acid-loving plants such as blueberry.
Final Verdict
With that, we come to the end of our post. We hope you enjoyed your time with us and finally chose which fertilizer you're going to use. 
If you have any more doubts about which is the best blueberry fertilizer, do let us know in the comments below, since we'd love to hear from you. 
Until then, stay happy and healthy. Most importantly, keep gardening!
As an Amazon Associate I earn from qualifying purchases.